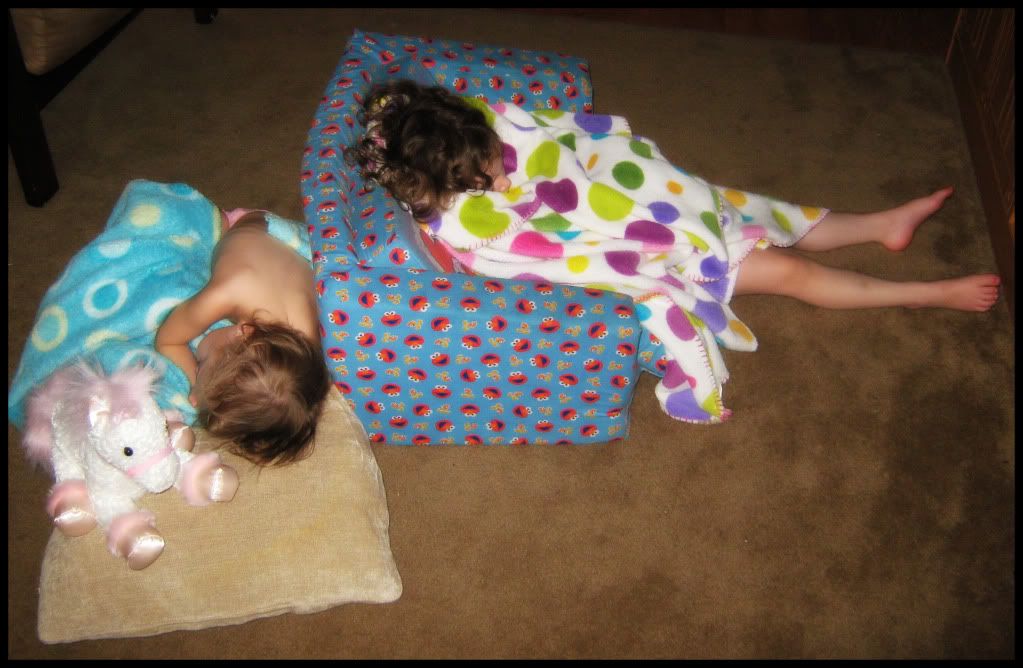 It has been a loooooong weekend, full of fevers, whining, and a bit of vomit. This last batch was chicken and apples. Very chunky.
We did make it to the festival on Friday evening and had a nice time. Summer felt fine at that point, and Camryn, hung out in the stroller. Summer's fever started on Saturday, so we decided to stay at home, but we had company over Saturday night and had a lot of fun. Today was a lazy day, spent sitting around taking care of the kids and watching movies. The girls dozed off and on on the floor. They never, ever fall asleep anywhere other than their beds or their car seats, so they must be feeling pretty awful.
I baby-sit Monday-Wedneday normally, but Bella's great-grandfather passed away over the weekend so she won't be here tomorrow. I probably wouldn't have had her here anyway, I'm sure my house is infested with germs right now. The girls will be disappointed that she's not coming, they love playing together. I'm not feeling that great at the moment either, I'm really hoping it's just because I'm tired. I'm kind of afraid to go to sleep because I have a feeling I will feel worse when I wake up.
Looking for something to make for dinner? I shared a great chicken casserole recipe yesterday on Chic Chat, go
check it out
. It is the BEST. We ate it for dinner last week, and then I had it for lunch three days in a row after that, and I still wasn't sick of it!
**I keep forgetting to mention, I made a new blog button. Feel free to grab it if you enjoy reading here, or if you have one of my old buttons posted. Let me know if you do, so I can add yours to my sidebar!**