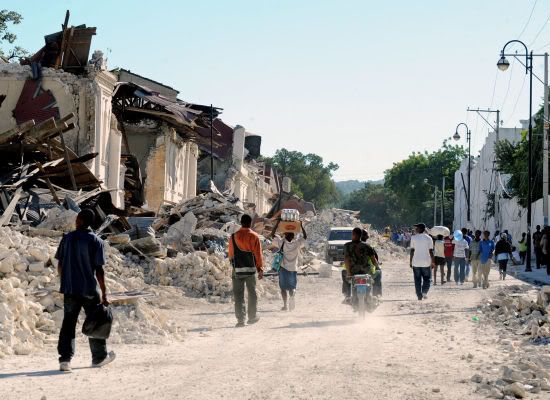 As I watch the news coverage of the horrible earthquake in Haiti, "Why?" is all that I can say.
I think Haiti is the last place on earth that was prepared for this type of disaster.
The people, unsure of their future, sit among bodies and those that are severely injured and waiting on medical help that may never come.
It really makes you feel helpless, doesn't it?
I was sitting here watching the news and saw this story about a family who has an adopted daughter waiting for them in Haiti. They don't have the video up on ABC's website yet, but please read it
here
.
I'd like to spread the word on how to help. This is from the Red Cross website:
"Countless requests have come from people wanting to help. The best way to do that is to make a donation to the American Red Cross International Response Fund at
redcross.org
or by calling
1-800-RED-CROSS
. Donors can designate their gifts to Haiti relief. Donations to the International Response Fund allows the American Red Cross to respond to global emergencies and disasters.
In addition, several hundred thousand people have chosen to make a mobile donation. Donors can text "Haiti" to 90999 on their cell phone to send a $10 donation to support Red Cross relief efforts in Haiti. The mobile giving effort raised more than $3 million by Thursday morning, and all money raised goes to support Red Cross relief efforts in Haiti."
I think every little bit helps in these situations. We all have to come together to help those in need. I would hope that everyone around the world would do that for me if something similar happened here.

I just texted a donation. Still feeling helpless, though.