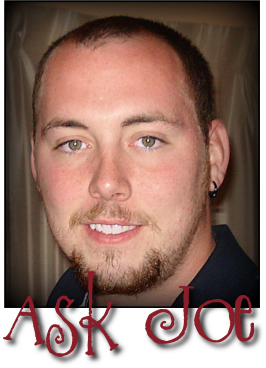 I finally was able to grab Joe and get him to sit down and answer the questions that you all submitted for the husband Question and Answer session. Yes, he really did answer every one of these! Here is what he had to say...

F
rom
Emily
:
When will you let the girls start dating?
Never.



Will you be that dad that sits in the living room cleaning his shotgun?
Yep.

What is your favorite feature of Stephanie's?
I would have to say her cute toe on her left foot that is shorter than the others. The little piggy that didn't get enough roast beef.
From
Stephanie
:
Do you hunt anything besides deer?


Currently I do not, but I plan on getting into smaller and larger game. Next year I will be entering the lottery for the elk hunt.

How about fishing? If your lakes froze over would you ice fish?
Sure. I'm always willing to try something new.
From
Lindsay
:
How did you and Stephanie meet?
"I was fixin to meet her, and I went out my front door to meet her, and I went there and I got there and there she waaassss!" (
Watch Jeff Dunham
and Bubba J
)

Do you ever use a bow to hunt deer?
I just started using a bow this year, but no success yet.


How did you learn to do all that house renovating stuff?
Many years of watching my uncle and dad, and some things I learned through my profession.


What's your favorite thing to do with your daughters?
Pillow fights
From
Holly
:
What is one thing that drives you nuts about Stephanie? :)
Laying on the car horn at innapropriate times.
What is your favorite meal?
Banana Pepper Roast
From
Bridgett
:
How does it feel to be the only male in a household of females?
Scary. But Jack's got my back.


What are your thoughts on anal beads? (LOL...sorry, Steph! I couldn't resist! :D) (AUTHOR'S NOTE - Simply Femme inside joke... Don't ask.)
Eeewwwwww. (Ernest P. Worrell style)


What is the one TV show you cannot miss each week?
Tie between Dirty Jobs, Man Vs. Wild, Mythbusters, and The Colony


Please tell us a super duper secret about Steph that
will make us all giggle. :)
She likes to sit in front of the webcam and record herself making weird noises and faces.


If you could take the 'vacation of a lifetime,' where would you go and why?
It would probably be the Autralian Outback.
From
Ali
:
How do you feel about being the one questioned for a blog questionnaire?
I feel honored.