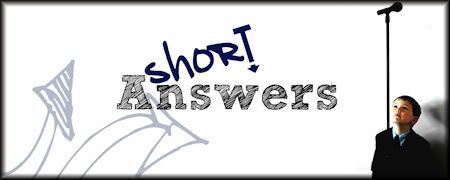 To join in, just ask the following 5 questions to the kid(s) in your life. Post their answers on your blog, then visit Rear Window and link up!
Summer, age 3, and Camryn, age 2

How tall are you?
S: Big.
(Puts hands on hips)
This big!
C: Little!
What are mom and dad doing when they pay bills?
S: Ummmmmmmm.
(Climbs underneath my chair and swings around)
Tell me another question. Pleeeease.
C: Umm, Starbucks.
What's the fanciest restaurant you've ever been to?
S: Nonononono.
C: Dinosaurrrr.
Do you think you look more like mom or dad?
S: You!
C: Me and Daddy, me and Daddy.
If you could change your name, what would you change it to?
S: Camryn!
C: Nuffing.