Every once in awhile I like to participate in blog hops… it's a great way for me to find other blogs to read that I enjoy, and to gain new readers that might enjoy my blog. Today I've linked up with: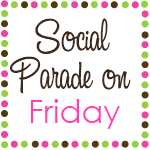 Visitors… thanks so much for clicking on me! I'm a mommy to two of the cutest little girls in the world, who are 3 and 4. I stay at home with them for the time being and love it. I'm married to a plumber named Joe. I mostly blog about my girls and our day-to-day life, but every once in awhile I might share something that is important to me – such as an upcoming post about how I think people that stop 30 feet in front of the line at stop lights are insane (complete with pictures as evidence). I love to take pictures with my little point and shoot and post tons. I do blog designs as a way to bring in a little extra money, and I love it. I'm planning on going to college next fall to get a degree in Psychology, and also get a fancy new camera as soon as I can so I can start doing photography on the side. I'd also love to expand my knowledge of web design, and I'm looking into the credentials to be a crime scene investigator. I'm insane, you say? Maybe! Life is too short to live it doing something you don't enjoy.
Anyway, thanks for stopping by! Make sure you leave your link if you comment so I can come see you, too!