I had just turned off my light and fallen asleep when I was awakened by a thump on my bed. I put my hand down to see if it was the dog, the cat, or a child. Sure enough... I felt a human head. With soft, straight hair.

Camryn.

This was the third night in a row she had gotten up as soon as my light had gone off. And, just like the other two nights, when I carried her back to her room and put her in bed, she did a half whine, half cry type thing, saying she didn't want to go to sleep or stay in her room.

I told her it was bedtime, it was late and everyone else was sleeping, and that she needed to try to fall back asleep. I told her not to get up again unless she had to pee.

I go back in my room, half-asleep, and she starts to cry. Whine. Yell. Joe woke up. We had a very sluggish conversation about what we should do.

"I don't know how to handle this situation. It's not a good idea to let her get in our bed. It's not a good idea to get in her bed with her. It's not a good idea to ignore her cries either."

"Mhhhmmm."

"You know, Supernanny would just keep putting her back in bed. That's what we need to do."

"Yeahmmmm."

Meanwhile, Camryn is still whining and crying.

"Joe, You should go in there and tell her to go to sleep."

*Grumble*Yawn*

Joe got up, went in to their room for 30 seconds, and when he came out there was silence.

He got back in bed, and we both laid down and turned the light off.

Not so bad, I told myself. We can deal with whatever phase she is going through, and it won't last long if we handle it this way every time.

I fall asleep.

Joe woke me up this morning around 7am when he got up to go to work, to ask me why this was next to me: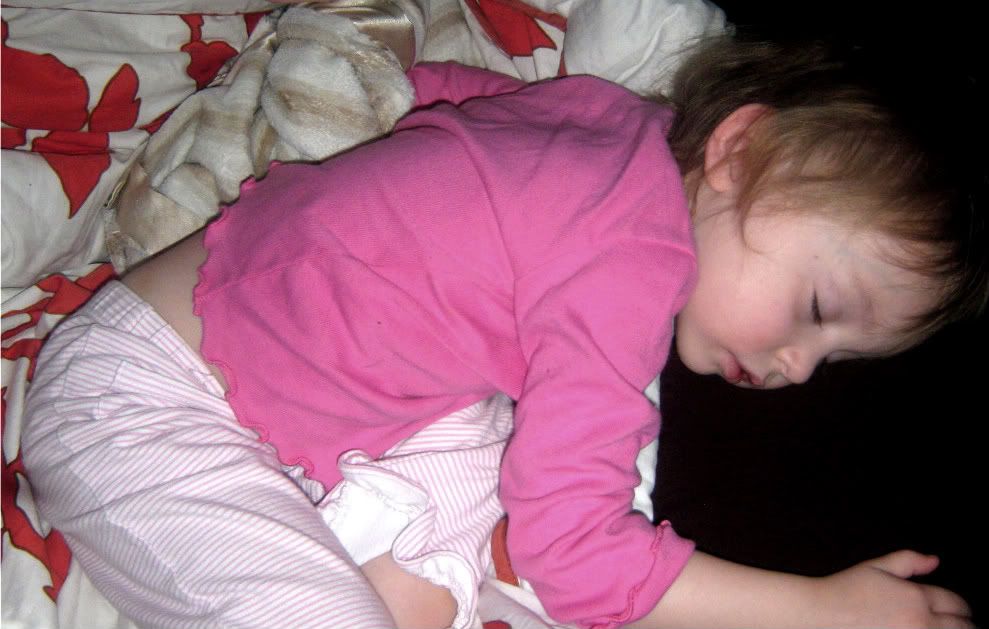 I don't know when she got in our bed, or how she got in our bed without waking us up, but she did.

While I LOVE cuddling with my little girls and it is a wonderful feeling to have them asleep next to me, I do not want to start a habit of her sleeping in our bed every night, because that is so hard to break. A queen size bed is not big enough for two tall adults and a child.

You know those parents who you are really jealous of because their kids have slept through the night without hardly a fuss between the hours of 8pm and 8am every night since they were 7 weeks old?

That was us.

Advice?