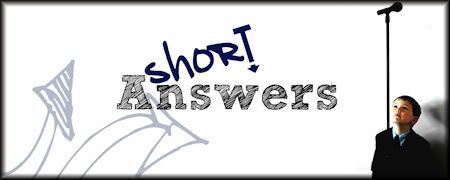 To join in, just ask the following 5 questions to the kid(s) in your life. Post their answers on your blog, then visit Abigail at Rear Window and link up so we can read the brilliance of the child's mind!

Summer, age 3, and Camryn, age 2

Where does electricity come from?
S: The store.
C: Ummm. Target.
Where does salt come from?
S: Salt comes from the store, too!
C: Ummmmm. Target.
How many years have you been alive?
S: Umm. NO. Another question!
C: Two!
How much money does Daddy make?
S:
Holds up one finger.
This many.
C: Quack quack
What is your favorite kind of car?
S: It's kinda black. And we can drive it.
C: Cars. Driven it.